Posted On Mar 22, 2005 at by Prakash G.R.
Sudhir and Madan came to Chenna to visit our friend, who met with an accident. He has improved a bit since I visited him a month back when he landed here. The first thing I could notice is that he has put on some weight and the visible evidence is his little belly. He refused with his usual witty smile and said that, it was because he was sitting his stomach got that shape, else it will be flat. Still he needs a cuff tied to hold a spoon & assistance from others to move, he regained a little bit of sense in his legs & he could move his fingers. Its a positive sign. Whatever changes, his mental attitude stays the same with the good old sense of humor. As Vens had his Santro, we decided to take him out for a dinner. As moving in & out of a restaurant will be a big ordeal, he preferred a drive-in restaurant. Out of the 2 known drive-in restaurants in the city, Woodlands was rejected because of the number of mosqiutoes. We might need a dozen Good Knight coils there. The only left choice was Planet M @ VGP. I think of the same situation in US. He can get into any restaurant/shop and move without much trouble. They make sure they have every provision for the physically challenged people. Here most of the commericial places have only stair cases & wheel chairs are not welcomed there.
As Maddy agreed to make it as his treat for his 42% pay hike (Damn! Three years back when we came out of college, he was the highest paid in our class!) But for 11 people with all variety of items from Pizzas to icecream, the amount came slightly around 2k. That should be nothing for him. Back home Sudhir started playing our fav. game ever - AOE :-)


I was talking with Sudhir about lot of things and was mentioning about the gal I met at ashram. She is around 18 now. 2 years back she was sold to a brothel house by her own gradma just for Rs. 20k. She was there for an year and got resuced afterwards. Now she is tested HIV +. Sudhir said, thats because its south. What does that mean? He explained that, there in north, gals younger than her will be sold at a cheaper rate and never get rescued. Thinking of people like my friend or these innocent kids, my question on the existence of God gets stronger. Back in my school days my thirst for knowing the purpose of life led to me glance me thru the writings of various Gurus from Vivekanadha to Prabhupadha to Osho. Each of them have their own view on what & who God is and generally I disagree with them in most of their arguements/views. The thoughts I could accept closely is of Kanchi Periyava's. His book 'Theivathin Kural' is THE best reliegious book I've ever read. Still there are few things that I disagree in that book too :-( Finally, till now, I don't believe in Him & His existence and the thought grows stronger everytime I meet innocent people 'punished' for doing no harm to others. Thoughts on this now reminds me that a blog on the book is still pending. Got to read it once again to blog about it.
Posted On Mar 19, 2005 at by Prakash G.R.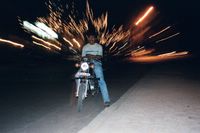 I consider this as one of my best shots I've ever shot. Taken last month when I went to Bangalore with my K2. After a getogether, me and Guru were going back to the house. I saw these lights before a hotel on the way and thought of taking a picture of it. Those serial lights were wound around a tree and doesn't make an interesting object to shoot. So I thought of creating a motion effect. Kept the shutter speed in 3 seconds. Holded the camera tightly and clicked. The flash went off and Guru & the lights got captured. Now, immediately after clicking, I slightly zoomed for 3 seconds. The path of the lights create rays, while Guru's image is not affected, as he is standing in the dark and no more flash/any other light on it. I didn't expect this to come well, but surprisingly it was better than what I thought.

Posted On Mar 18, 2005 at by Prakash G.R.
Been to Karur for the Hema's wedding. Sometime back, I found he was struggling to say something to me. I guessed that either he is going to switch to another job, if not another team. To my surprise he said he is getting married. He is just out of college and I thought it will take atleast an year or two for him to get married. Thats pretty soon!!! I know what will happen if I attend his marriage. He is subjunior and atleast 4 yrs younger to me and I'll be the target for everyone in his class there. As expected it happened :-(

The marriage was on Sunday early morning and he has called in for the reception at 11 AM. I joined my teammates and reached there on saturday morning. Checked into the hotel and decided to go to Kolli malai. Booked a Qualis and started around 10.30 AM. It took 2.30 hrs to reach there. Unlike Karur, the weather was so chill and pleasant. Even drizzled a bit. We reached a temple there and Bala told that we need to step down to reach a water falls. I didnt have much expectations on that. But climbing down the steps, I felt coming back is not that easy as the steps were so steep. Finally when we reached there, I was surprised. The falls was unimaginably superb. There was no much water flowing, but even then the water should be flowing from 600 feet or even more than that. Thats certainly 10 times higher than Thirumurthi hills. We took bath in that. The water was so chill and it was piercing the skin with force. I couldnt stand there for more than 5 mins. Enjoyed the natural shower and came back. I felt very bad for forgetting my camera :-( Sesh was all the way shooting with his handycam. Have not seen that yet. mmm. After resting there for a while, we started climbing up. There were totally around 750 steps and I thought I'll stop at 400, where there is a wonderful view of the valley. But after 300 every single step was paining. I couldn't even climb a single step after 325. So rested there and climbed till the view point. Sesh, Bala & Vikram joined me there. Me and Sesh decided another non-stop climbing from there. The steps after that were not so steep as earlier, so We did that :-) It was 4 PM up there and we have not had our lunch yet. So we had whatever was available - dosa, omlet, biscuit, banana, pineapple, etc. Satish was flat. Along with Kalidas & Ravi, he reached the top an hour after we reached. We started there by 6.30 reached the hotel by 9. Had a good booze and slept. This was one of the best trip I ever had. A trek thats so tiring, the wonderful falls, and more importantly the talks in the cab. We were discussing about lot of things from capitaism to Kadal movie. Then came a word war between Bala, a sneka fan and Vikram & Sesh, Trisha fans. Bala said something about Trisha, which nobody expected him to say that. The rest of the journey, he was finished. That was real fun. The teasings continued in the office after everyone heard about it.

The next day, we attended the reception and as expected I was the target for everyone there :-( As soon as the lunch was over, we went to hotel and slept. Then in the evening, we went to a good old Shiva temple near by. (I don't go to temples, but was bored sitting in the room) Good one. From the paintings there I learnt that once Brahma had a 'head-weight' that he was the superior god and because of that he couldn't create any more species. (mmm. so its not very bad, if I have any!) So for the meanwhile, Shiva sent Kamadhenu to eath as a substtute for Brahma to create lives. It came to a place in earth, where it found a Shivalingam. It worshipped and started creating. Since lots of karu's were created from that place, the place was known as Karur! and that temple is where Kamadhenu worshipped the lingam!!! I never knew the peyar karanam of the place. Interesting story :-)

Meanwhile, today I was looking for my duplicate bike key (Yes, I surprisingly lost it!) in my desk, I discovered a book that talks about God & science. I remember taking it to the office after completing it, so that I can blog about it. (At that time no net @ home). Then I forgot and its been there for several months. Its an interested read and will definitly blog about it. Keep waiting for it
Posted On Mar 16, 2005 at by Prakash G.R.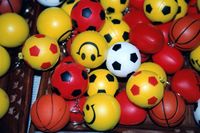 Taken with my Canon K2. During the wyanad trip, I shot this in a shop near Pookad Lake. It was gettting late and I went in to drive people out of the shop, so that we can catch the train. The vibrant colors of these keychains, attracted me so stopped for a moment and shot them. All I got was a nice picture and few kicks on my back :-)

Posted On at by Prakash G.R.
No. Nothing technically about the hibrenate framework:-) After a hectic work, I decided to take off for a week and go home. I wanted to go home as soon as the code drops are over. But Ajit wanted me to stay back till it goes to production and so the plan was postponed. I've been out of office for 2 weeks, thats almost half a month! I spent 2 days to visit my relatives around sathy & cbe, 1 day in college & 1 day for the flower show at Agri Univ. botanical gardens. Apart from that all I did was eat, sleep, watch HBO, AXN & Star Movies, play with my nephew and listen to the music in FM & iPod. Felt like I was living someone's life :-)

Now to kuvampatti after a really loooooong break. Back home here, nothing has changed much. One thing is my sify account expired and didn't renew it till now :-/ I've gone for a 48 kbps pack instead of my 128 kbps, let me see how the speed is. So far not so bad. But if start browsing photoblogs, might feel it I guess.

Work is killing my time (ahhhhhh, I hate Javascript). Surprisingly Murali gave me a book about Templates in C++. Went thru the first chapter. Its a very interesting read. In the ack. section the author had mentioned about his editor Debbie. Reminded me the days when I used to do mail-chat with her from college. A little stubborn lady with straight-to-face comments. But still, it was a pleasure working with her :-) Thinking of an article in Java-templates as suggested by Murali. Let me see how it goes.